Therapy Horse Wins National Title and Heads Back to Work Monday Morning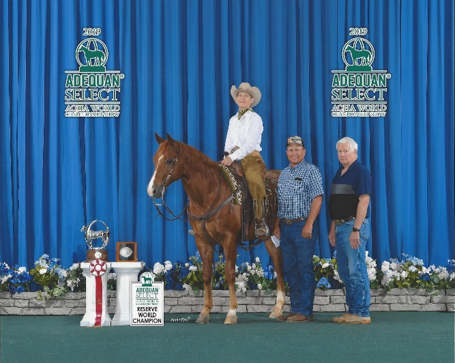 FORT COLLINS, Co., October 9, 2019. AQHA gelding Barbies Red Rooster, known to his family as "Ricky" at Skyline Therapy Services in Edgewood, NM, was just crowned Reserve World Champion Ranch Riding Horse at the Adequan® AQHA Select World Championship Show in Fort Worth, Texas shown by his owner, AHA, Inc. faculty member and speech-language pathologist, Ruth Dismuke Blakely, MS/CCC-SLP, HPCS. The Adequan® AQHA Select World Championship Show is the world's largest, single-breed world championship horse show open exclusively to amateur exhibitors age 50 and over. Select amateur competitors around the world must qualify for the event by earning a predetermined number of points to secure a spot in each of the classes, representing English, Western and halter disciplines. Competitors compete in a preliminary round hoping to make the top 15 "finals" round.  
The 2019 Ranch Riding Finals marked Ricky's fourth trip to the finals, having placed 12th, 9th, and 6th at previous Select World Shows. The AQHA Select World Championship Show AQHA Ranch Riding is judged largely on a horse's maneuverability in various gait transitions and tasks that are characteristic of working ranch horses in a prescribed pattern.  Ricky holds his Open Ranch Riding and Amateur Ranch Riding Superiors and has accumulated close to 300 AQHA points.
When not on the show trail, Ricky, a 2003 sorrel gelding, works as a premier therapy horse at Skyline Therapy Services, a pediatric physical, occupational and speech-language therapy clinic which specializes in hippotherapy as a treatment tool. Ricky logs about 18 hours a week in his role as a highly trained therapy horse; this high level of training lends itself equally well to his job in the competition arena and his job of providing high quality equine movement as a therapy tool in treatment sessions. The 16-year-old gelding is a favorite with the Skyline Therapy Services staff as he can make smooth, precise, and gradable transitions as asked by the horse handler, according to the needs of the patient. He was awarded his Reserve Championship on Saturday August 31st and was back on the job working in a speech-language therapy session at Skyline at 9:00 AM Tuesday morning September 2nd. Ricky loves both of his "careers," giving his best in the show pen as well as in therapy sessions. 
Share this post: