Global Strides- Transitions Toward International Growth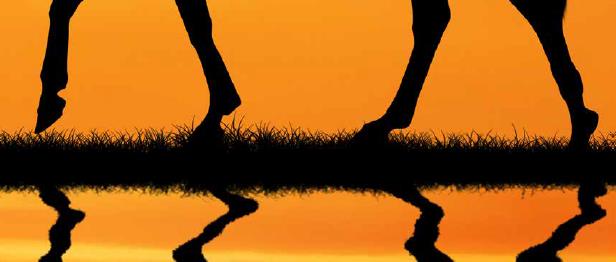 It is a very exciting time for AHA, Inc. as the organization begins to expand its knowledge and expertise to international waters. Currently there are six American Hippotherapy Certification Board (AHCB) certified therapists and four Hippotherapy Clinical Specialists (HPCS) internationally. To date, AHA, Inc. faculty have facilitated international courses in Spain, Greece, New Zealand, South Korea, Mexico, Portugal, Russia, China, South Africa, Turkey, and—this year—Saudi Arabia. These courses were host to a wide international presence.
My home country of Ireland has hosted two informal workshops in conjunction with the Central Michigan University Physical Therapy program, allowing students to experience the medical models of different countries. There is a continued growing interest regarding the American model of incorporating equine movement into a client's plan of care, so it is timely that AHA, Inc. is rising to the challenge of transitioning into a more internationally inclusive organization.
When looking outside of America for training and education opportunities it can be extremely difficult to find consistent information. I found the credentials among the different professions can be weighted differently depending on what country you are in. In some countries only qualified physiotherapists can use hippotherapy as a treatment tool, while elsewhere general practitioners (medical doctors) may be considered appropriate professionals. Terminology is also inconsistent internationally, making it confusing for our patients to truly understand what service they are getting.  Some professionals incorrectly refer to themselves as "hippotherapists," thus creating a fourth therapy that does not exist. Others inaccurately market themselves as providing "equine therapy."
This growth is paving the way for consistent growth outside of America. It has sparked change in how neighboring countries practice and has enticed practitioners to explore how the American medical model can be adapted to their own countries.
The ability of therapists to sit for the AHCB and HPCS exams outside of the USA has also facilitated the transition toward greater international presence. For international members it can be time-consuming and costly to physically travel to America to engage in all of the learning opportunities AHA, Inc. has to offer. AHA, Inc. is also seeing more international Part I and Part II courses becoming available, and is now also developing an online learning platform that will make international reach even easier. This will help close the international gap and create a more inclusive membership. The development of international faculty is also a step in ensuring education will be more accessible to all.
AHA, Inc. is in a prime position to explore the various ways it can meet the needs of its international members. After securing my HPCS status I was given the opportunity to apply for international faculty apprenticeship. This is currently a work in progress, but it will mean more options for current and potential international members to start out on their path of AHA, Inc.-supported education. International educational opportunities will mean the use of more consistent terminology, better information sharing, a higher standard of practice, more strongly supported advocacy for this amazing treatment tool, and a more consistent delivery of services for our clients. It can be daunting for a country, or even a single therapist, to begin the process of incorporating hippotherapy as a treatment tool when it may be previously unheard of, but AHA, Inc. has now developed a mentoring system which I would strongly advise international members to explore. As international involvement and standards grow it may also open the opportunity for facilities to host international fieldwork placements for American occupational therapy, physical therapy, and speech-language pathology students. Conducting informal education and advocacy workshops for national and international students will mean more advocacy for a tool we are all passionate about. We now have the opportunity to ensure that our clients, health care organizations, and the general public are fully informed with consistent terminology. We are the ones who can build awareness and ignite a passion in those who are still unaware of just how powerful equine movement can be when used by someone who has the knowledge. AHA, Inc. is giving us the power to fill ourselves with that knowledge and educate ourselves to be better practitioners.
Consistent terminology is key for the advocacy of this powerful treatment strategy, and AHA, Inc.
is currently making a strong transition toward supporting consistent terminology internationally. The term hippotherapy originated in the 1960s and was used initially in Germany, Austria, and Sweden. AHA, Inc. was founded in 1992 after a group of therapists traveled to Germany in the 1980s, and later established an official international protocol for this treatment tool. The current transition toward consistent, defensible terminology first started
when AHA, Inc. approached the American Speech-Language-Hearing Association (ASHA), the American Occupational Therapy Association (AOTA), and the American Physical Therapy Association (APTA) for recognition of hippotherapy as a standard treatment tool within the respective professions. It may not have been realized at the time, but this move was a key element in international AHA, Inc. members being able to introduce hippotherapy as a medical model of practice in some countries. For example, until 2014, practitioners in Ireland (the home of the horse) had not heard of hippotherapy as a treatment tool. Due to the AOTA's recognition the Association of Occupational Therapists Ireland (AOTI) found no reason to question the validity of hippotherapy as a treatment tool, and Strides Medical Clinic—the first medical clinic incorporating hippotherapy—was founded. This clinic has since grown to employ three full-time occupational therapists, a speech-language therapist, and three full-time horse handlers. By following the American model, this clinic was able to be established as a for-profit business and adapt itself to meet the needs of its home country.
Share this post: