Critically Appraised Paper
Vermöhlen, V., Schiller, P., Schickendantz, S., Drache, M., Hussack, S., Gerber-Grote, A., & Pöhlau, D. (2018). Hippotherapy for patients with multiple sclerosis: A multicenter randomized controlled trial (MS-HIPPO). 
Multiple Sclerosis Journal
, 
24
(10), 1375–1382. 
https://doi.org/10.1177/1352458517721354
Journal Impact Factor: 5.
Introduction:
Previous literature has identified hippotherapy as beneficial in improving balance, fatigue, and quality of life among individuals with multiple sclerosis (MS). However, this evidence has only included one randomized controlled trial (RCT) consisting of 18 participants with MS involved in hippotherapy or an internet-based training program. Lack of Level I evidence (ie., RCTs) supporting use of hippotherapy is problematic because practice, policy, and financial recommendations are often based on the quality and consistency of available evidence. Therefore, the authors conducted a RCT to investigate the effect of hippotherapy plus standard care (i.e., experimental group) versus standard care (i.e., control group) alone in  individuals with MS.
Methods/Outcome Measures:
This RCT recruited individuals 18 years or older from five sites in Germany that follow rules of the German Consortium for Therapeutic Riding. All individuals were diagnosed with MS with spasticity of the lower limbs and an Expanded Disability Status Scale score between 4 and 6.5. A total of 70 participants were randomly allocated into either the experimental group or control group; only 41 were included for final analyses. The primary reasons for attrition were documented and similar across both groups. The experimental group received hippotherapy (as defined by the regulations for hippotherapy of the Deutsches Kuratorium für Therapeutisches Reiten e.V. (DKThR)) once a week for 12 weeks in addition to their standard care which could include drug treatment, immunotherapy, and physical therapy. The control group received standard care.
Results
The authors reported that balance scores (measured by the validated Berg Balance Scale), improved among participants in both groups. However, the participants in the experimental group demonstrated greater improvements in balance as well as quality of life, fatigue, and spasticity in comparison to the control group. The authors also reported adverse events (safety risks) that the participants experienced during the study which included falling off the horse, MS relapse, and muscle contractions.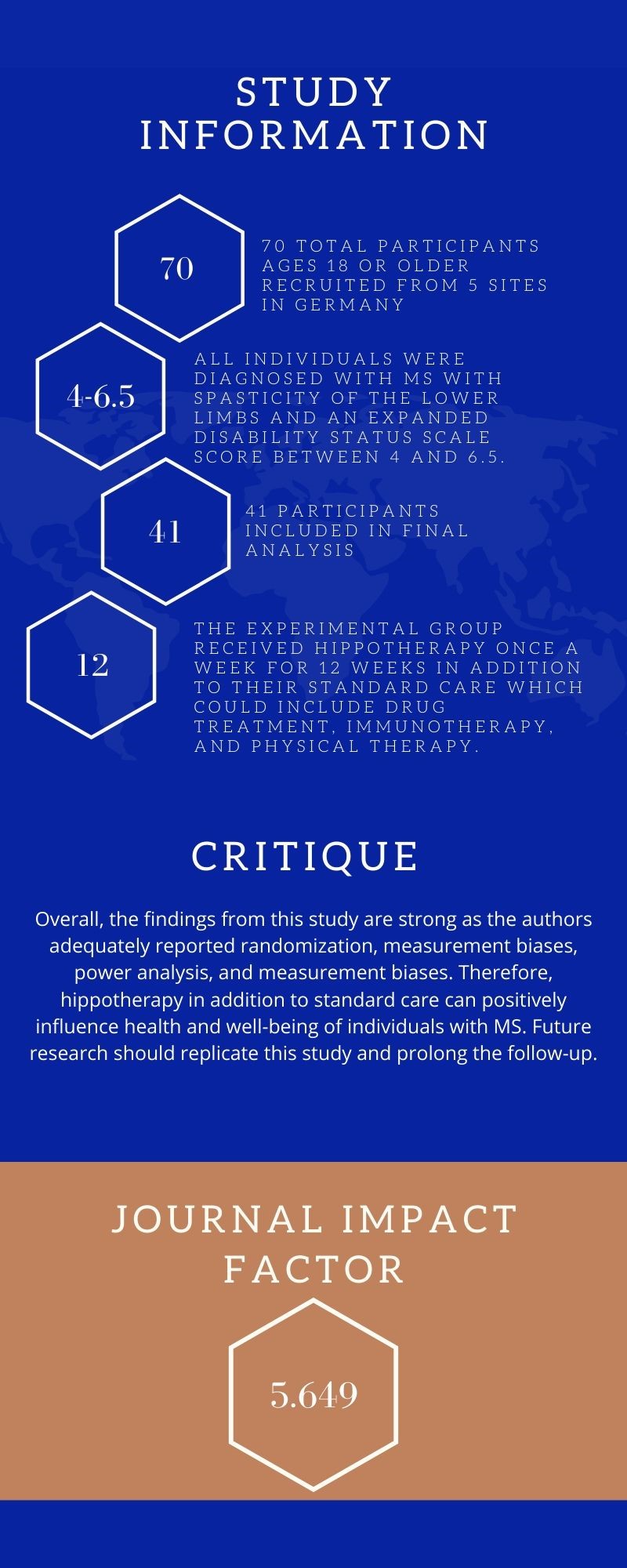 Limitations
There are few limitations to the study. Final analyses were limited due to participants exceeding the timeframe for final test by more than two weeks. Only partial intervention details were described as the authors referred to a previously published protocol. In addition the terminology used in this article does not align with the American Hippotherapy Association Inc.'s terminology document.
Critique
Overall, the findings from this study are strong as the authors adequately reported randomization, measurement biases, power analysis, and measurement biases. Therefore, hippotherapy in addition to standard care can positively influence health and well-being of individuals with MS. Future research should replicate this study and prolong the follow-up.
Clinical Bottom Line
This study is well designed and adds rigor to the body of evidence in support of integrating hippotherapy into the care of clients with MS. Improvements in balance, fatigue, and quality of life may occur when hippotherapy is part of the plan of care with the MS population.
Share this post: