Practice Errors to Give You Terrors- common mistakes and oversights that can haunt your practice
Disclaimer: All photos included in this post were staged with the assistance of experienced horse handlers and riders. Use of these images in any context other than their use here is not permissible.
Running a physical therapy, occupational therapy, or speech-language therapy practice is hard, but running a physical therapy, occupational therapy, or speech-language therapy practice that safely and effectively uses the treatment tool of hippotherapy as part of a total plan of care is even harder. There are many more factors to be taken into consideration including horse handlers, sidewalkers, horses, equipment, as well as the terminology you use when discussing your practice both in person and online. In the spirit of Halloween, we've put together a list of some tricks to set you up for a safe and effective treat(ment).
Headless Handlers
Well-trained and experienced horse handlers are essential to any therapy practice that utilizes hippotherapy as a treatment tool.  Horse-handlers are responsible for exactly what their title describes – handling the horse. Ineffective and improper horse-handling directly impacts the safety of the horse, the patient, the sidewalker, and the therapist. Horse-handlers must be ready to respond to environmental changes that may cause a horse to react including anything from a plastic bag to a bee to an ATV. This is essential to the safety of the team and the patient. If a horse handler is seated, leaning on a rail, or on their phone, they are not prepared to respond if a horse were to be startled. Additionally, for the safety of the horse-handler, it is essential that the handler not wrap the leadline around his or her hand. Should the horse pull, this could result in significant injury to the handler as well as loss of control of the horse. Continuing with the theme, the horse-handler must maintain a safe proximity to the horse to allow for a quick and efficient response time. A handler walking too far ahead of their horse runs the risk of missing one of the many signs a horse gives when they are unhappy, uncomfortable, or afraid. However, walking too far behind the horse puts you into the therapist's or sidewalker's space and can put the patient at risk. It is best for the horse-handler to remain between the horses ear and shoulder.  
Even when nothing scary happens, poor horse-handling will result in poor outcomes for patients. Inattentive, disengaged, and ineffective handlers yield inattentive, disengaged, and ineffective horses. As therapists, we are trained to manipulate equine movement for the purpose of providing
greater support for patient outcomes. We know that simply having a horse is not enough. We need a handler who can effectively lengthen a horse's stride, support them in collecting to achieve a shorter stride with appropriate impulsion for each patient, and ensure that the horse maintains the movement the patient requires for as is needed. 
Sinister Sidewalkers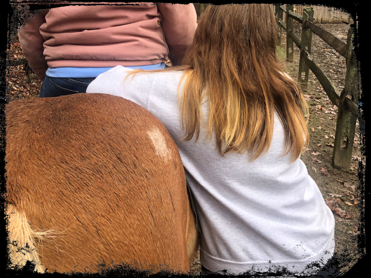 Sidewalkers also play an integral role in a therapy session incorporating use of hippotherapy as a treatment tool. Horses are not couches! They are living, breathing animals whose movement can be used by licensed and specially trained physical therapy professionals, occupational therapy professionals, and speech-language pathology professionals to enhance treatment for the purpose of achieving functional outcomes. It is the responsibility of the sidewalker to assist the treating therapist in maintaining patient safety by ensuring the patient remains balanced and centered to ensure symmetrical input.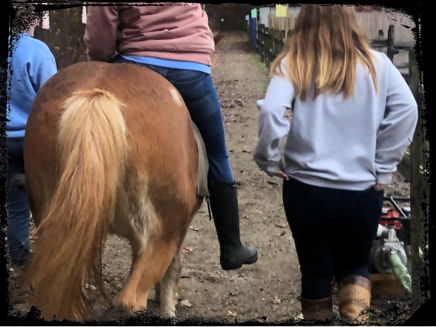 If a sidewalker has his or her hands in their pockets, they are not prepared to help a patient adjust themselves to remain centered, nor are they able to ensure patient safety should a horse react or during an emergency situation. As we get into the colder months, encourage your sidewalkers to bring gloves and wear layers. This way, their fingers stay warm and their hands are still at the ready in case they are needed!
Horrifying Horses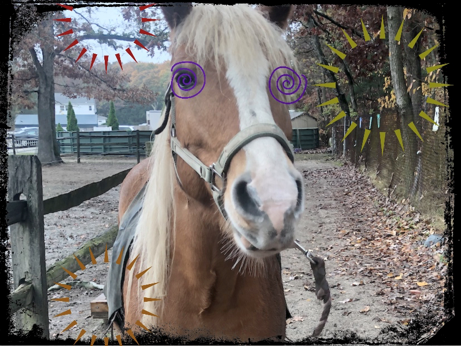 "Hippotherapy" is not a discipline for therapists, but it is for horses and while we at the AHA, Inc. love horses of all shapes, sizes, and colors, some are not cut out to be used in treatment sessions incorporating hippotherapy. When selecting a horse to use in a session, it is important to take manner factors into consideration: does the horse startle easily? Are they comfortable with having sidewalkers on both sides? Are they sound? Are they happy doing their job? As licensed therapists who utilize equines and their movement in our treatments, we have to make sure that we make the horses safety and wellbeing a priority as much as our patients.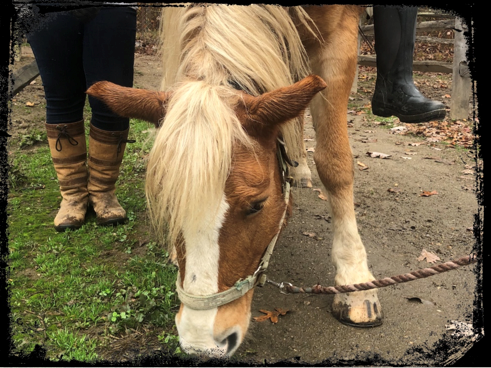 The photographer for this post attempted to get a photo of this therapy horse pinning her ears, but even being dragged by a "headless handler" and leaned on by a "sinister sidewalker," she did not even once for the entirety of the shoot. While it did not play to our benefit for visual purposes, it does demonstrate the temperament necessary for a therapy horse to possess. A calm, sweet, and confident disposition is critical when choosing a horse to be used in treatment.
Eerie Equipment

 

 
Surcingles, bareback pads, saddles, and stirrups are just a few of the items OT, PT and SLP professionals might use when choosing appropriate equipment for their patients. While there are many creative ways to support patients during their therapy sessions, there are some rules that apply no matter how out of the box a therapist may think. 
A properly fitting helmet is not a luxury. Helmets fitted like the one pictured here do not protect the patient. It is essential that helmets used during therapy sessions are snug and level to ensure patient safety. For help finding the perfect helmet fit, check out this great video from the Certified Horsemanship Association: Correct Horseback Riding Helmet Fit with Julie Goodnight. A properly fitting girth is also a necessity. Loose girths will almost certainly result in slipping of a bareback pad, surcingle, or saddle, making it difficult for a patient to remain balanced and providing asymmetrical input. Perhaps most importantly, improperly fitting equipment is uncomfortable for the horse. We are asking a lot of the horses we use and it is our responsibility as licensed and trained therapy professionals to ensure that we use appropriate and properly fitting equipment to make it easier for our horses to do their jobs!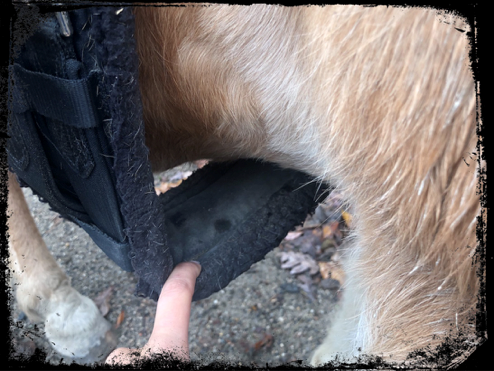 Terrifying Terminology
As OT, PT, and SLP professionals incorporating hippotherapy into our treatments, we know how tempting it is to talk about it at every opportunity. It is an incredibly powerful tool and we all want people to know how it can be used within a total plan of care to help licensed and trained professionals make gains toward functional outcomes... BUT manipulating equine movement is only a very small part of what we do as physical therapy professionals, occupational therapy professionals, and speech-language pathology professionals, even if hippotherapy is our specialty. Furthermore, labeling treatment as "equine-assisted" is misleading to consumers as it puts the horse first and the therapy second. As a therapy professional, your clients are coming to your facility for your knowledge and skilled treatment; the horse is just one part of what you do. You must lead with the therapy when talking about your practice as it clearly identifies the service that your client is receiving. We are not "hippotherapists;" we do not have "hippotherapy practices;" and our treatment is not "equine-assisted."   

We are physical therapists, physical therapy assistants, occupational therapists, occupational therapy assistants, speech and language pathologists, and speech and language pathology assistants. Whether we are in an office, in a hospital, in a school, in a patient's home, at a conference, in a course, or yes… in a barn… we are therapists and we do therapy. We have a myriad of tools and strategies at our disposal and reducing ourselves to "ists" of one of these tools takes away from our wealth of knowledge and experience. 
This Halloween, keep the practice errors and terrors at bay by remembering that we are first and foremost licensed OTs, PTs, and SLPs; secondly we incorporate equines, equine movement, and the equine environment into our treatments. 
Disclaimer: All photos included in this post were staged with the assistance of experienced horse handlers and riders. Use of these images in any context is not permissible.
Share this post: