Melanie Dominko-Richards, MS, CCC-SLP, HPCS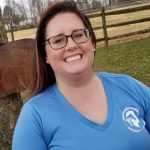 Melanie is a New Jersey licensed Speech-Language pathologist with her Certificate of Clinical Competency from the American Speech-Language-Hearing Association. Melanie graduated from Seton Hall University in 2011 with a Bachelor of Science in Education and in 2013 with a Master of Science in Speech-Language Pathology. Melanie currently works at Our House, Inc. as a speech-language pathologist helping to improve the functional communication skills of participants in their day habilitation program. She also works at Mane Stream in Oldwick, NJ where she utilizes equine movement as a treatment tool for the organization's speech-language clients.
Melanie has been recognized as a Board Certified Hippotherapy Clinical Specialist (HPCS) through the American Hippotherapy Certification Board since 2017. Her continuing education has included training in Hippotherapy, PROMPT, and providing evidence based treatment to pediatric clients. She is also a PATH Intl. Certified Registered Instructor, a PATH Intl. Registered Therapist, a PATH Intl. Equine Specialist in Mental Health and Learning, and a PATH Intl. Mentor as well as an EAGALA Certified Professional. Melanie currently serves as the President for the AHA, Inc. Board of Directors and sits on numerous committees. 
In her free time, Melanie enjoys riding, learning obscure facts from Podcasts to share with her friends, journaling, kayaking, and spending time with Arnold, her Pembroke Welsh Corgi. Melanie is looking forward to working with AHA, Inc. and the rest of the Board of Directors on further educating others and promoting the use of equine movement as part of an integrated plan of care!