2024 Biennial Conference 

Conference Award Nomination Information
AHA, Inc. presents awards at each conference in honor of 2 of our most prominent founders and leaders. The Barbara Glasow Therapist of the Year award honors a therapist who exemplifies excellence in treatment incorporating hippotherapy and the equine environment. The Barbara Heine Horse of the Year award is for an outstanding equine partner. AHA, Inc. is now accepting nominations for a therapist and/or horse that you feel demonstrates excellence in practice and performance.
 Click Here for Heine Horse of the Year Nomination        Click Here for Therapist of the Year Nomination
Submission Deadline: Only completed nominations will be accepted. All submissions need to be postmarked no later than Saturday, September 30, 2023, to the AHA, Inc. office. Late submissions will not be accepted. 
Conference Presentations Proposal Information
 Click Here for Presentation Guideline
AHA, Inc. is soliciting conference presentations for its 2024 conference. Individuals interested in presenting at the 2024 AHA, Inc. International Conference must submit the required documentation in the noted format found in the Content Description section to AHA, Inc. by Saturday, September 30, 2023. Please email submissions to [email protected] and note "AHA, Inc. Abstract Submission" in the email subject line. 
Conference Details 
Pre-Conference Speaker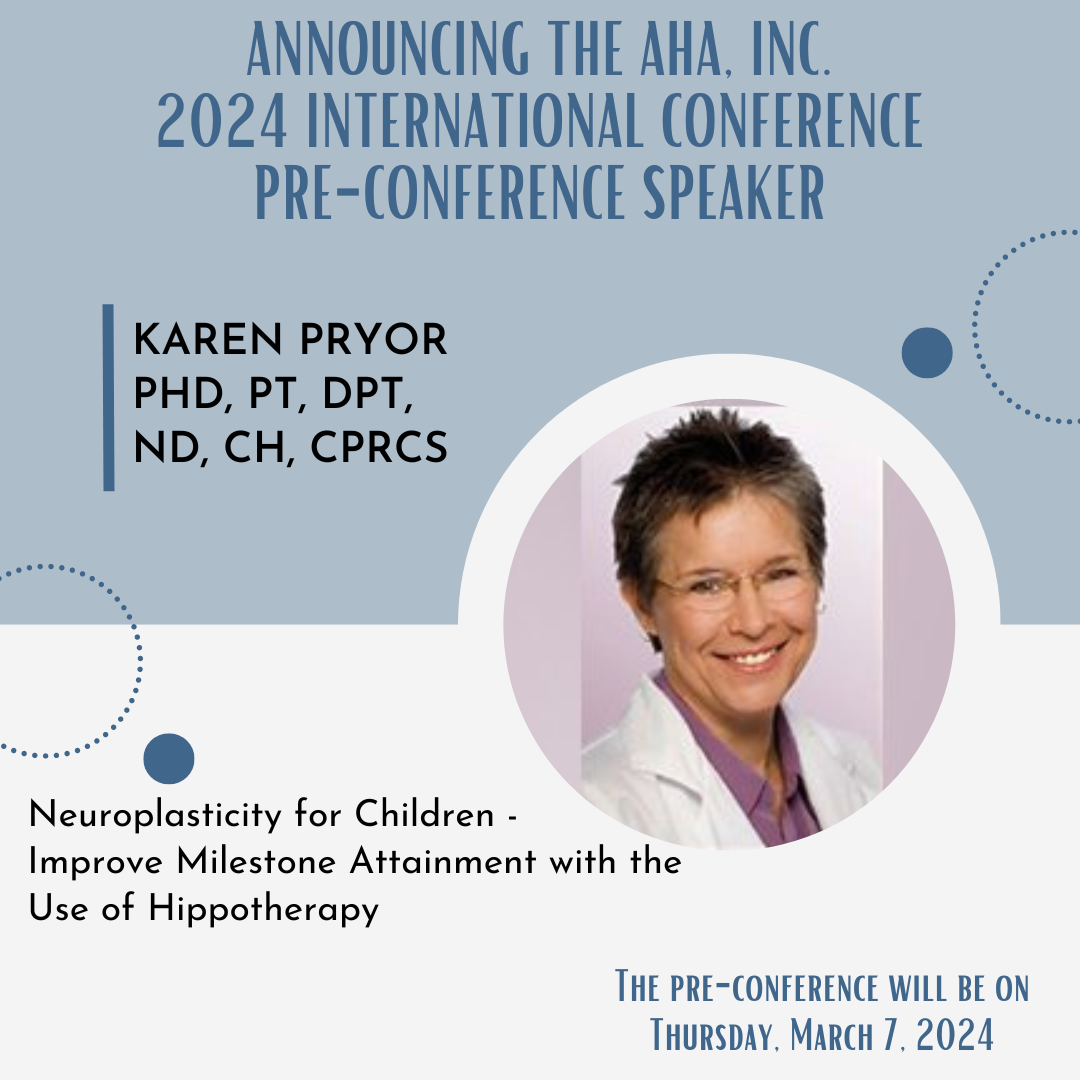 Neuroplasticity for Children -
Improve Milestone Attainment with the Use of Hippotherapy
In this interactive pre-conference workshop, improve treatment for your clients by discovering the link between nervous system involvement, Neuroplasticity, how to require functional pathways for improved development and sensory integration. Learn to equate several primitive reflexes with developmental stages and evaluate performance based on those completed stages. Practice simple techniques to immediately add to your sessions, leading to developmental successes for:
• Neurological Deficits
• Obligatory Primitive Reflexes
• Sensory Processing Problems
• High and low tone
• Visual focus and challenges
Objectives:
Learn the structure of the brain and how it relates to function and dysfunction with skills on how to rewire with simple Neuroplasticity techniques.

Identify several primitive reflexes and how they contribute to development.

Demonstrate sensory integration exercise, including modifications, with how vision leads the motions.

Identify the behavioral and physical symptoms associated with neurological challenges.

Discuss case studies that relate to Neuroplasticity techniques and sensory integration.

Identify top down sequence neural development and treatment
Speaker:
KAREN PRYOR, PHD, PT, DPT, has a doctorate in physical therapy and has practiced for 44 years in the field. Dr. Pryor is the owner of Health
Sphere Wellness Center an integrative therapy clinic in East Tennessee. Involved with early intervention in the birth-three population for over 40
years, she has developed neuroplasticity techniques that are used in a wide variety of settings, including homes, childcare centers, and school
systems, to advance pediatric therapy programs. Dr. Pryor serves on several boards, including the Leadership Interagency Council for Early
Intervention, (2014- 2024), a position to which she was appointed by Tennessee Governor Bill Haslam and Governor Bill Lee. In 2010, she
received the President's Volunteer Service Award for her contributions to the advanced treatment of children from President Barack Obama. In
addition to her work with children, Dr. Pryor has served as an adjunct professor at the Tennessee State University Occupational Therapy School,
and in the Volunteer State Community College Physical Therapy Assistant program. She is a clinical instructor for several universities and colleges.
With her years of experience and passion for complete wellness, Dr. Pryor advances a more expansive view of how to integrate therapy throughout
the lifespan by using neuroplasticity techniques.

Author of Ten Fingers Ten Toes Twenty Things Everyone Needs to Know (2019).