Taking The Leap: Steps for Transitioning to Private Practice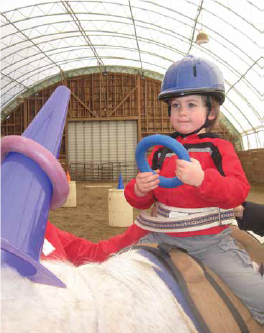 What makes a champion? According to Lynch (2006), a champion has courage to risk failure. A champion also has passion, vision, and creativity. They understand their weaknesses and work to strengthen them. They enjoy what they are doing, simply for the pleasure of doing it. They likely also possess a special talent, a niche personality, charisma, and a long-term vision of goals and opportunities for future possibilities. What constitutes a professional? For that matter, what is professionalism? For some, there may be an internal drive that creates a journey into professionalism. According to Atkins (2013), "Professionalism is a responsibility to bring changes in people's lives." He also states that attitudes drive behaviors, behaviors drive action, and action reinforces attitudes.
By now you may be thinking, "What does all this have to do with starting up a private practice?"
The short answer: You need to build the door that opportunity will knock on. Are you a champion and a professional? Do you have the ability to create a vision, the attitude to drive that vision into action, and the ability to take that action to new levels that reinforce your vision? Do you see the risk or the possibility of reward? Are you looking toward an optimistic future of success and the creation of a better vision? Patel (2017) adds to this list, explaining that successful entrepreneurs possess characteristics that include the ability to take risks, be decisive, problem solve, and be adaptive as a "Mad Hatter"—wearing as many hats as necessary to succeed.
"If Opportunity doesn't knock, build a door" – Milton Berle
The question remains: Are you a champion, a professional, and an entrepreneur? If so, you may be ready to consider taking that one giant step forward through the new door you just built and enter the world of private practice. The steps after that may not be in focus just yet, but this article will help you create an outline to use as an initial template. This template, along with the AHA, Inc. Business Connection course, will provide you the tools needed to be successful. Remember that the first step through the door is the hardest; after that, each step will become easier as you follow the guidance of the course.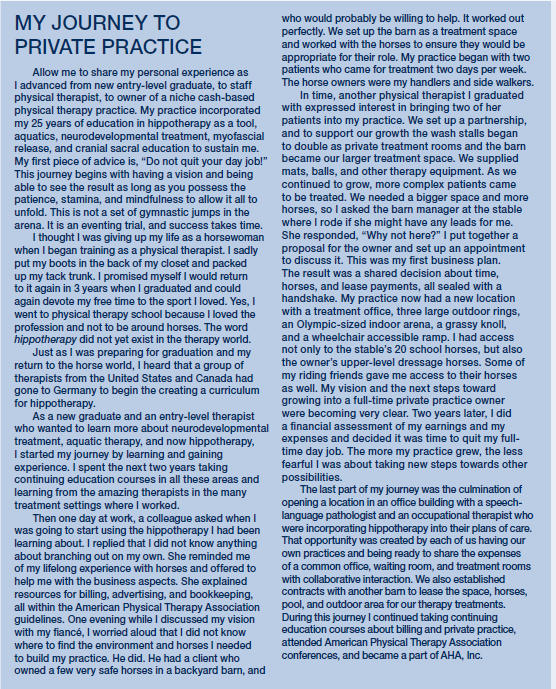 Top Ten Steps for Starting a Private Practice
1. Decide to open a practice. Make a timeline. Check out the competition and assess their strengths and weaknesses.
2. Create your own SWOT (strengths, weaknesses, opportunities, and threats) analysis for yourself and your emerging practice.
3. Create a website, social media accounts, and forms, and make visits or phone calls to develop your practice. Create a marketing plan, which can include letters to medical doctors, press releases, and an open house, even if you do not have patients or a physical office yet.
4. Write up a business plan. Involve a certified public accountant and an attorney. Include the business structure, location, pro forma budget, start-up capital, and banking relationship/loans.
5. Have 4-6 months worth of operating expenses on hand. Apply for business and registration licenses and tax identification numbers. Allow 6 months to 1 year for insurance billing completion.
6. Plan the physical set-up. Establish the lease or ownership components for your physical location(s).
7. Order equipment. Research your computer software set-up. Hire and train staff and horses.
8. Create a risk management plan. Confirm insurance needs and policies.
9. Have a team meeting. Set-up work spaces. Move in and run a beta test of your location.
10. Opening date: Go live! Promote giveaways, screenings, and gift items via social media presence.
USEFUL RESOURCES
---
• How to Decide if Entrepreneurship is Right for You (The Wall Street Journal)
http://guides.wsj.com/small-business/starting-abusiness/how-to-decide-if-entrepreneurship-is-rightfor-you/?mod=WSJBlog
• Is Entrepreneurship for You? (Small Business Administration)
www.sba.gov/content/entrepreneurship-you
• Starting-Up Assessment Tool (Small Business Administration)
www.sba.gov/content/use-our-starting-assessment-tool
• 20 Questions to Ask Before Starting a Small Business (Small Business Administration)
www.sba.gov/content/20-questions-before-starting-business
• Practice Ownership (requires American Physical Therapy Association member login)
www.apta.org/PracticeOwnership
• Choosing a practice ownership structure; leasing space; partnership or solo practice; purchasing a physical therapy practice; starting a practice; suggested readings on practice ownership
• American Physical Therapy Association Private Practice Section
www.ppsapta.org
• American Occupational Therapy Association Resources for Private Practice
(requires American Occupational Therapy Association member login) Search "private practice" www.aota.org
• American Speech-Language-Hearing Association Resources for Private Practice
(may require American Speech-Language-Hearing Association member login for some resources) www.asha.org/practice/ Follow link to Practice Portal
• Council for Affordable Quality Healthcare on insurance billing
www.caqh.org
• Small Business Association
www.sba.org
---
This Top Ten List can help you start to see the big picture. Next, you will need to learn about the different business models and practice models. These are different entities, and some time should be dedicated to deciding on what setting you want to practice in and what business model you want to start with (see the list of business models below). During this phase of planning, it would be best to consult with a certified public account and an attorney who understands therapy practices. Remember that your business model can change as your practice grows. Please always refer to your state Practice Acts, state licensing agency, your specialty's national professional organizations, and the Centers for Medicaid and Medicare Services for information on rules, regulations, billing, and fee structures.
Other valuable resources include the Small Business Association and other therapists currently in private practice, even if they are not incorporating hippotherapy as a tool. If you are considering billing insurance, give yourself six months to one year to initiate the process. A useful resource to streamline insurance billing is the Council for Affordable Quality Healthcare, listed in the Useful Resources section of this article. And, of course, I recommend that you take the AHA, Inc. Business Connection course. It will not only give you more detail about the transition to private practice, but it will be your start to forming lifelong connections for networking with other entrepreneurial champions across the country who share your vision, growth, and challenges in private practice.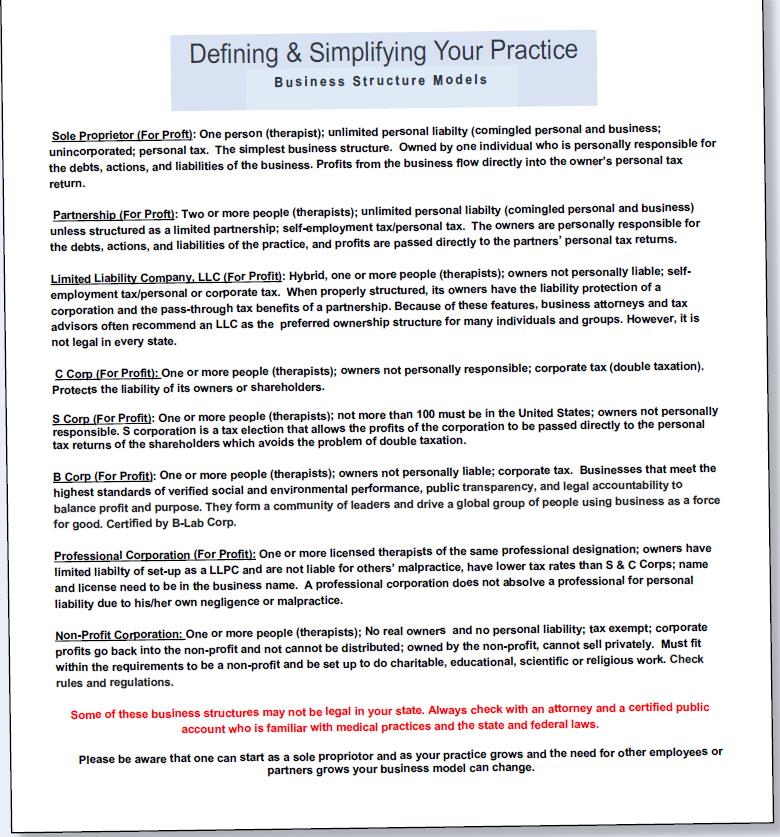 REFERENCES
AHA, Inc. (2018). Business Connection – Hippotherapy Business Aspects [PowerPoint slides]. Retrieved from: https://drive.google.com/drive/u/0/my-drive.
APTA.org (n.d.). Choosing a practice ownership. Retrieved from: http://www.apta.org/PracticeOwnership/Structure/.
APTA.org (n.d.). Starting a practice. Retrieved from: http://www.apta.org/PracticeOwnership/StartingaPractice/.
 Atkins, D. (2013, May 4) Being a professional: Dale Atkins at [email protected] EHS. [Video file]. Retrieved from: https://www.youtube.com/
watch?v=sLv7sdGJWPI
Lynch, J. and Al Huang, C. (January 15th 2006). The way of the champion: Lessons from Sun Tzu's the art of war and other Tao wisdom for sports & life. Tuttle Publishing. ISBN 0804837147 (ISBN13: 9780804837149)
 Patel, S. (2017 September 2) Personal finance: The lowdown -10 Essential Characteristics of Highly Successful Entrepreneurs. Retrieved from: https://www.inc.com/sujan-patel/10-essential-characteristics-of-highly-successful-.html
Share this post: